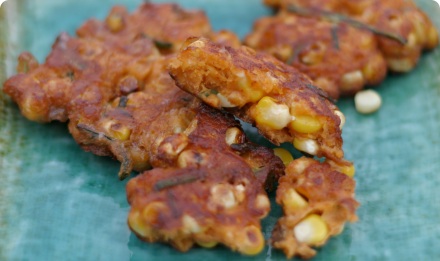 Tod Man Khao Pod is a variation on
the popular tod man plaa, or 'fish cakes' which are so common here in Thailand. This version uses corn kernels instead of fish, and is quite easy to make. Serve it with Slightly Pickled Cucumber Salad.
Directions
Remove the kernels of corn from the cob. The best way to do it is to remove by hand, peeling in a downward motion, one at a time. This preserves the whole kernel, and leaves them juicy and flavorful when you bite into them. If you're lazy, you can use a knife and slice them off. Or even lazier, just get frozen corn. Whole kernels do taste better, however, and don't explode when you fry them.
In a bowl, add the corn, flour, egg, curry paste, sugar and lime leaves. Mix well.
Drop by rounded spoonful (and smush a bit once in the pan to flatten) into hot oil. Cook on medium-high heat until golden brown, flipping once. It should take about one minute per side.